MedSense - Infrared Non-Contact Thermometer Andatech
Get your MedSense Infrared Non-Contact Thermometer from Ozinnovations today, Australia trusted breathalyser and health products store.
Features:

Non-Contact Thermometer
The MedSense Infrared Thermometer provides users a more convenient, non-invasive way of testing body temperature without physical contact.

Just place the device at a safe distance of 3-5 cm distance away from the skin and aim it at the middle of the forehead with the help of the LED positioning light. Press a button to take a measurement and the thermometer will give an accurate temperature reading instantly.

This non contact thermometer is perfect for families, medical professionals, and workplace or public testing that requires minimal physical contact. For consecutive testing, the thermometer requires just 10 seconds between tests to ensure accurate measurements.

Instant 1-Second Readings
Get an accurate temperature reading in just 1 second after pressing the measurement button.


Dual Mode Use
Use on both people and objects. The MedSense IR thermometer can not only measure body temperature from the forehead, but can also measure the temperatures of objects and surfaces within the home. For example - bath water temperature, feeding bottles, air temperature, and other applications.


Clinical Accuracy
The MedSense IR forehead thermometer has been clinically validated for accuracy and is a precision instrument that hygienically and accurately records temperature in a safe and non-invasive manner.
The MedSense Non-Contact Thermometer is a Class IIa Medical Device and is entered in the ARTG and also with CE. ARTG No.: 333214


Multi-Coloured Backlight Display
This digital, non-contact thermometer's backlit, colour-coded display lets you know in a glance if the temperature is too high or even too low. The backlight colour changes from green (normal) to orange (attention) or red (fever) depending on the temperature reading. Its backlit display allows usage even at night, and its large clear text and icons ensures results and functions are easy to read.

Fever Alerts
Provides a visual and audio alert when the detected body temperature is high
The fever alert is perfect for personal, medical or public use. Along with the change in background colour, the thermometer will play a sound to alert you if the temperature is too high.

*Note: the thermometer can also be silenced if needed.

Measure Object Temperature 
Other than measuring body temperature, the MedSense non-contact thermometer can also be used to measure the temperature of surfaces and objects such as bath water, feeding bottles, and air temperature.
Easy to use
Clear readings, both day and night
The MedSense IR non-contact thermometer is easy to read thanks to its visual and audio cues, clear backlight display screen and large text and icons.

Positioning guidance assistance
An LED lamp positioned just above the thermometer probe helps guide your aim when taking a measurement. This ensures that you always get a consistent and clinically accurate reading every time.
Unlike conventional thermometer guns that are bulky and heavy, the MedSense thermometer weighs in at just under 70g and is sleek and slim, making it easy to carry around when needed.

ECO-FRIENDLY 9 Sets Memory
Keep track of body temperature fluctuations. Recall the last 9 temperature readings with just the click of a button. 

Results in ºC or ºF
Easily change reading modes between degrees Celcius or degrees Fahrenheit.

On/Off Audible Alerts
Quickly silence the thermometer to take a temperature without making a sound - perfect to avoid waking a sleeping child.

30s Auto Off
Automatically shuts off after 30 seconds of inactivity to save on battery usage.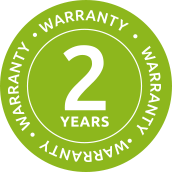 TWO YEARS MANUFACTURER WARRANTY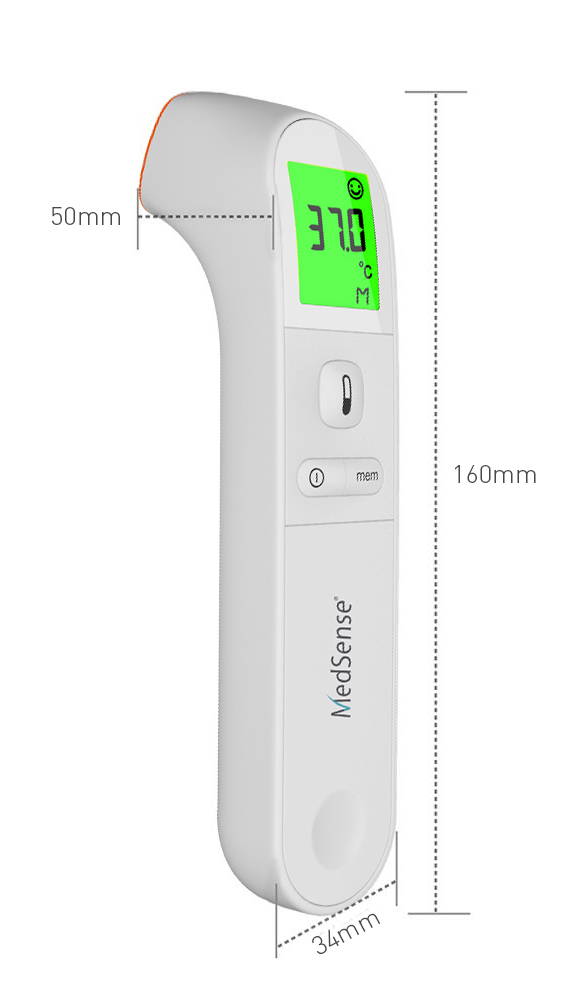 Product name:
 MedSense Infrared Forehead Thermometer
Model number:
 MDS-TF01
Product dimensions:
 34×160×50mm
Product weight:
 about 68g (excluding batteries)
Battery
: 2 x 1.5V AAA batteries (alkaline batteries are recommended)
Measurement range:
  Body temperature 34.0 - 43.0°C.(93.2 - 109.4°F)
  Object temperature 0 - 93.2°C (32 - 199.7°F)
Resolution ratio:
 0.1°C/°F
Measurement location:
 Laboratory
Accuracy:
 (35.0°C~42.0°C) ±0.2°C, (95.0°F~107.9°F) ±0.4°F, other temperature ±0.3°C.
Operating conditions:
  Temperature 10.0°C~40.0°C(50.0°F~104.0°F)
  Relative humidity 15%RH~93%RH
  Atmospheric pressure 70kPa~106kPa
Transportation / storage conditions:
  Temperature -25°C~55°C (-13°F~131°F)
  Relative humidity 0%RH~93%RH
  Atmospheric pressure 50kPa~106kPa
Display screen:
 LCD display screen, 4 bit numbers and special icons
Memory:
 9 tests
Automatic shut down:
 After 30 seconds of inactivity
Life expectancy:
 5 years
Packing parts list
1. Main body
2. Product manual
Sound
:
  1 short beep - Device switched on and ready
  1 long beep - Measurement complete
  3 short beeps - System error or fault
  10 short beeps - Fever alert
  * Alert sounds can be switched on / off