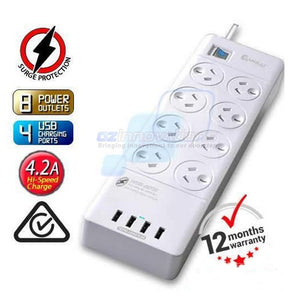 Sansai - 8 Way Outlet Surge Protector Power Board with USB Charger
Get your Surge Protected Entertainment Power Board with 8 Power Outlets from Ozinnovations.
Never run out of juice again! This handy charging station features eight outlets and four USB ports, allowing you to simultaneously power everything from smartphones and tablets to consoles and audio systems. Delivering an impressive 4.2A of high speed charging power, it's also surge and overload protected for your safety.

Product Information:

Supply rating 230-240AC ~ 50Hz
Current 10A (Max.)
Power Rating 2400 Watt(Max)
USB Output Power: DC 5V/4/2A Max
Surge protection 375J
Surge current 13500AMPs
Response time <20ns
Efficiency Level: IV

Features:
Model: USB + Power Board
8 x power outlets
4 x USB ports
Surge & overload protected
Master on/off switch
Auto regulated 0-2.4A per port 4 USB ports total load 4.2A max.
Suitable for use with:
Smartphones
Tablets
mp3 players
GPS systems
Digital cameras
Televisions
Monitors
Game consoles
Audio systems
Power rating: 2400W (max.)
Input: 230-240V~50Hz
USB output: 5V/4.2A (max.)
Dimensions (approx. cm): 28 x 9 x 2.5 (L x W x D)
Cord length (approx. cm): 100

Please note that the USB port is not suitable for charging iphones or ipads. You can use the power board to charge them instead using their own Apple adaptors..